Production Description
SiC-Si3N4 NSiC silicon carbide nozzle Silicon nitride nozzles
Si3N4bondedd by adding industrial silicon paste into artificial aggregate.
Si3N4-SiC Thermocouple Protection NSiC roller Silicon nitride (Si3N4) bonded silicon carbide (SiC) material is produced by adding industrial silicon paste into artificial aggregate. Under high temperature, Si and N2 reacts with the formula of 2N2+3Si=Si3N4, Si3N4 bonded Sic material is formed by bonding SiC particles tightly. Therefore, Si3N4 bonded SiC material is an excellent refractory with the original properties of SiC. The material has quite high strength even under the temperature of 1700.C has properties of creep deformation resistance and anti-chemical erosion, and has excellent thermal conductivity and wear-resistance. Comparing with other several bonded SiC materials, Si3N4 bonded SiC material has attracted more and more attention.


SiC-Si3N4 NsiC Silicon carbide nozzle Product Feature
Si3N4 Bonded SiC material is mainly used in the production of aluminum, copper and zinc , as the lining material of the molten pool and electrolytic bath (reduction bath). The side lining of the reduction bath is eroding by aluminum and cryolite (used as additive), but Si3N4 bonded SiC material could not be eroded by aluminum, and do not have chemical reaction with cryolite. So this kind of material is ideal for the lining bricks of the electrolytic bath. In particular this kind of bricks have the excellent properties of high strength, abrasive resistance and nonconductive, so the copolymer (Al2O3 and Cryolite). The copolymer likes protective film to protect the working lining and improve the service life of electrolytic bath. At the same time, the Si3N4 bonded SiC bricks have lower thermal conductivity than silicon bricks, so they can reduce the thickness of the side wall or input higher power to expanse the loading capacity of the electrolytic bath, and to increase the output. Because of the high resistivity of the material, it can reduce the power consumption of the side -wall about 15%, saving energy and protecting environment.
SiC-Si3N4 NsiC Silicon carbide nozzle Physical Properties
Density

g/cm3

Relative density

Elastic modulus

GPa

Compression strength ratio25

Hardness

GPa

3.26 0.02

>99.5

300320

4050

16 - 20

Fracture toughness

/MPam1/2

Bending strength

MPa

Poisson's ratio

Linear expansion coefficient

10-6K-1

Webuller modulus

6.09.0

9001000

0.25

3.13.3

1215

Thermal conductivity

WmK-1

Specific resistance ratio

Corrosion resistance

Size stability

Magnetic

15~20

1018

Excellent

Excellent

NO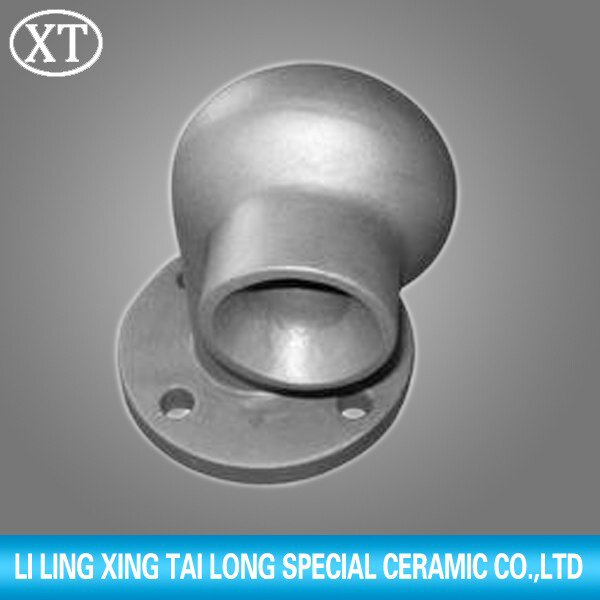 Our Services

1.Why choose Xingtailong?

High puriy material make sure high max working temperature,

Tight tolerance make sure the right installation.

Large quantity in stock ensured fast delivery.

Large capacity reduce materical prices.

2.Our service of Xingtailong:

Inquiry response: Your inquiries will be replied in 24 hours.

Sample support: Two free samples are available in 3~5days.

Delivery time: Your shipment will be loaded in 15~25days.depends on quantity.

Payment term: T/T, L/C, D/P, D/A, Western Union (Sample only) We can supply the products according to customer's